December 2013 - Connect the BoP: A Guide to leveraging ICT for inclusive business
For the Deutsche Gesellschaft für Internationale Zusammenarbeit (GIZ) GmbH, on behalf of the German Federal Ministry for Economic Cooperation and Development (BMZ), Intelecon examined how companies that serve the Base of the Pyramid (BoP) can leverage ICT to create innovative services and be more successful. Over 40 companies were analyzed that serve the BoP and use ICT in innovative ways. We interviewed company executives in very diverse sectors, including pharmaceuticals, micro-insurance, solar power, water, agriculture and employment. The ICT-BoP Sector Dialogue brought together relevant actors to identify and document existing successful inclusive business models, and to identify key challenges and solutions for companies providing services to BoP consumers and producers. The project consisted of three elements: a practitioner's guide for businesses; an interactive workshop; and public evening event. Further, three webinars were held with several company representatives in the area of Micro-finance and –insurance, Agribusiness and B2B services. The practitioners' guide provides companies interested in BoP markets guidance on addressing such markets. Case studies of successful companies are included. To download the full Guide, click here: https://www.giz.de/Wirtschaft/de/downloads/GIZ_Connect_the_BoP_Webversion.pdf.
June 2013 – Wikimedia Foundation Study
Intelecon was selected by the Wikimedia Foundation to explore perceptions, usage and attitudes toward Wikipedia in developing countries. The focus, in particular, has been on the lower income segment who typically have only a mobile phone to access the Internet. The Wikimedia Foundation has developed Wikipedia Zero, partnering with mobile operators to allow access to the mobile Wikipedia site free of data charges. The Wikimedia Foundation wanted to understand what they could do to increase the usage of Wikipedia Zero at the Base of the Pyramid. There were three components to the research: Use of a mobile research platform to do a survey in nine African and Asian developing countries with over 4,500 respondents; Face to face field interview studies in Uganda and Botswana with 500 respondents each, and six focus groups in those two countries. The findings helped Wikimedia Foundations' leadership to take their Wikipedia Zero strategy to the next stage. The study findings can be found here, https://tinyurl.com/m86jpow and the Wikimedia Foundations presentation based on those findings at http://tinyurl.com/nxzugrm. A link to the mobile research findings is here http://tinyurl.com/kbadk2s
January 2012 – IFC Mobile Money Study
Intelecon Research & Consultancy recently completed a project on mobile money for the International Finance Corporation (IFC). The full report (available at http://tinyurl.com/87zdeyv ) provides a theoretical framework and methodology that is a powerful tool for assessing any country's m-money development potential.
The Mobile Money Study provides insight into the type of business model most appropriate in a specific country context, the sort of partnerships needed, the type of regulatory environment required to enable m-money development, and – finally – the developmental paths that m-money might take.
Four countries – Brazil, Nigeria, Sri Lanka, and Thailand – each of which represents a different world region, socioeconomic situation, and financial context – were visited and analyzed in terms of m-money business models. We also studied the two most successful m-money countries – Kenya in the developing world and Japan in the developed world – to compare them with the four countries in our study. The United States was included as a reference point and as an advanced country in terms of electronic payment (e-payment) cards (e.g., debit and credit).
The main objectives were to find ways to accelerate the development of the mobile money ecosystem in each country as well as learn lessons for application in other countries. Based on this analysis, the report offered a framework for a quick market study of a country to determine whether or what type of mobile money services might be developed commercially. It offers models of user perception and demand surveys, then develops a set of parameters—such as regulatory environments, current access to financial services, and the requirements of potential mobile money service providers to run viable businesses—that can spur or block mobile money development. The study included the following aspects:
Business model overview (including interviews with CEOs of financial institutions, mobile operators, mobile money service providers, government agencies);
Existing major money flows and critical mass low-value high-volume payment transactions (such as pensions, social security, conditional cash transfers);
User payment behaviours and technological needs (based on a demand survey in each country);
Existing / potential agents requirements (based on an agent survey in each country); and
Regulatory environment (including interviews with the Central Bank in each country).
By using these survey techniques and examining the relevant parameters, a government or development agency can assess a country's potential for a successful mobile money business. The report is intended for regulators, mobile network operators, commercial banks, microfinance institutions, telecommunications equipment and handset manufacturers, and others that could be involved in the development of mobile money businesses.
To download the Summary Report, click here http://tinyurl.com/87zdeyv. Each of the country reports are available here:
December 2011 – Mobile Applications for Agriculture and Rural Development (m-ARD)
Intelecon Research & Consultancy has just completed a project on Mobile Applications for Agriculture and Rural Development (m-ARD apps) for the World Bank. The full report (http://tiny.cc/pf4f6) provides policy-makers and development practitioners insight into the impact of this sector as well as mechanisms to support sustainable innovation.
The project included an analysis of the innovative business and operating models that are used by mobile applications in the field of agriculture and rural development (ARD). The study covered three countries in-depth – Kenya, Philippines and Sri Lanka – and 15 applications. In addition, a survey of 92 applications worldwide was conducted in order to establish common business models as well as common success factors. Brief analyses of each of the 92 mobile applications that are being used for across the world are available on the World Bank's website at www.worldbank.org/ict/m-ard.
One of the main findings of the report is that an enabling platform is probably the most important factor for m-ARD apps. Such platforms could facilitate interactions amongst ecosystem players, provide access to more users, offer technical standards, and incorporate payment mechanisms.
The hyperlocal nature of m-ARD apps makes scaling up challenging for providers. It is crucial for providers to leverage existing information resources, and providers who can aggregate and customize content from different sources will have an advantage. Governments and donors can play a crucial role by opening up access to publicly available data and ensuring that this data is accurate and as granular as possible.
The report found that some m-ARD apps are achieving sustainability, scalability, and replicability despite various challenges. Governments and donors play a critical role in transitioning m-ARD apps towards sustainability by covering initial capital costs. Those m-ARD apps that are able to achieve low operating costs are also more likely to be sustainable.
One of the main obstacles facing m-ARD apps in the progression towards sustainability from the pilot phase, is the lack of appropriate funding. The report recommends that development practitioners and donors consider using a variety of financing methods such as special purpose donor funds, apex funds, USFs and PPPs. Working with the private sector, specifically the Venture Capital/Private Equity market is vital because of the transfer of business skills to providers.
In order to achieve sustainability, m-ARD apps are utilizing a diversity of nonchargeable, transactional, embedded services or freemium pricing models. Some of these, such as the embedded services model, are very innovative and create previously unexplored (or even new) markets in addition to the primary market. Innovative models such as these are going to be key determinants of success in low-income markets, particularly in rural areas.
To download the full report, click here http://tiny.cc/pf4f6
October 2011 – Vanuatu Universal Access and Service Policy
On behalf of Vanuatu's Ministry of Infrastructure & Public Utilities (MIPU) and Telecommunication & Radiocommunication Regulator (TRR), Intelecon reviewed and provided guidance on the country's draft Universal Access and Service Policy (UASP) For Telecommunications & Radiocommunications Services, and the Universal Access and Service Process & Procedures. The review included an assessment of international and regional best practices. For more information about the telecommunications sector in Vanuatu and the country's Universal Access and Service Policy, please see this recent interview with Alan Horne, the head of the TRR.
July 2011 – The Philippines Digital Strategy
Over the past nine months, Intelecon assisted the Commission on Information and Communications (CICT), under the Office of the President, to develop a Digital Strategy for the Philippines. The Philippine Digital Strategy (PDS): Transformation 2.0 - Digitally Empowered Nation was launched officially at the end of June 2011, and is a guide to accelerate the nation's socio-economic development by using Information and Communications Technologies (ICT). Following best practice, the development of the PDS involved strong early stakeholder involvement, with several technical working groups (TWGs) that brought together government departments, civil society, industry and experts. The TWGs provided major input about current challenges, issues and potential solutions. Based on their input, a draft strategy was produced and then presented to seven focused workshops, representing various stakeholder groups, for feedback.
The PDS has four strategic thrusts – e-Government & e-Governance, Internet access for all, digital literacy, and ICT usage across business and industries. Each of these has specific objectives and key actions, as well as cross-cutting elements and links to the other strategic thrusts. The success of the PDS will require strong co-operation between government, industry and civil society, and the ultimate goal is a stronger society and economy with empowered Filipinos at its core.
The launch of Philippine Digital Strategy was followed by a restructuring that transferred many functions of the former CICT to the new ICT Office, which falls under the auspices of the Department of Science and Technology (DOST). With this re-organization, the DOST is now the lead agency; it has already adopted the PDS and looks forward to strong collaboration with the many stakeholders. "It is an impressive body of work and we support the many that were involved in its creation", said DOST Secretary Montejo. "We want to capitalize on their important contributions and knowledge," Montejo remarked.
The Philippine Digital Strategy (PDS) has been developed under a CIDA financed project called E-Governance for efficiency and effectiveness – E3.
June 2011 - Kenya's Ground-Breaking Digital Village Project
Over the past year Intelecon has been the lead consultant on a groundbreaking World Bank financed project in Kenya. Working with the Kenya ICT Board, the Digital Village Project (DVP) seeks to make ICTs more accessible and affordable to the wider population through the development and utilization of ICT facilities in rural areas. Recent milestones were achieved that have seen up to 37 digital centres, known as Pasha Centres, being created in 24 counties across the country that offer a wide mix of ICT-related products and services to mostly rural populations. When completed in about one year from now, there will be 210 Pasha Centres, one in each political constituency and all counties. Intelecon has been closely involved with the strategy behind this project, the selection process for the entrepreneurs operating these digital centres, and the financing and implementation arrangements. Another part of this initiative has seen the successful disbursal of up to 15,000 grants to university students towards the purchase of new computers (the "Wazesha" program).
A unique aspect of the Digital Village project is the partnership approach taken whereby a bank has been selected competitively to administer a revolving fund of the ICT Board and to receive business loan applications. The loans are granted to competitively selected entrepreneurs who then have a preferred financing arrangement with the bank. Regarding the computer grants, this strategy is unique in that it involves the active participation and coordination of numerous universities and vendors, and the outsourcing of the technical support centres.
During the coming months, Intelecon will again travel to Kenya and will be involved with the further expansion of digital villages, and their monitoring and evaluation.
April 2011 - Mongolia Information and Communications Infrastructure Development Project
Intelecon's recent work in Mongolia is highlighted in a report available at the World Bank website here.
In November 2010, Intelecon completed a project entitled "Transaction Support for the Implementation of the Universal Access Strategy of Mongolia". The main objective of the assignment was to provide Mongolia's Communications Regulatory Commission (CRC) with transaction support at every stage of the implementation of Mongolia's Universal Access strategy to accelerate the development of rural telecommunications infrastructure and services in locations that were deemed unlikely to attract sufficient private investment. In particular, under the project, existing service providers were awarded least-cost subsidies to provide telecommunications access at the bagh level; and voice and internet access at the aimag and soum levels. Strategic vanguard institutions such as schools were also provided with private Internet access in 34 localities. The whole program comprised a series of competitive awards of one-time subsidies totalling USD 4.86 million through an output-based aid (OBA) tender process to operators, who then became responsible for installing, operating, and maintaining the new telecommunications systems on a commercial basis.

Intelecon's final presentation on the project - Evaluation and Assessment of the Universal Access Programs of Mongolia ICIDP/CRC Universal Access Program is available for viewing in our Presentations section here.
November 2010 – ICT4D Conference in Berlin
Intelecon partner Sonja Oestmann was invited to the "ICT for Rural Economic Development" conference in Berlin by the Federal Ministry for Economic Cooperation and Development and the GTZ of Germany. Speaking to the working group on ICT policy and regulation, Ms Oestmann shared Intelecon's experiences with the implementation of the Universal Service Program in Mongolia. To see her presentation, click here.
Ms. Oestmann was also interviewed by the conference organizers. To watch her discussion of rural broadband, mobile applications and development co-ordination, view the embedded video below or click here.
November 2010 – 8th Annual Organisation of Caribbean Utility Regulators Conference
Intelecon was invited to address the 8th Annual Organisation of Caribbean Utility Regulators Conference in Ocho Rios Jamaica in November 2010. Andrew Dymond spoke on the trends, opportunities and best practices for universal access to broadband services, and Christopher Smithers presented on the topic of number portability and its applicability to Caribbean nations. Intelecon is a world leader in developing universal access to broadband strategies and implementing programs – including for island nations and emerging markets such as the Caribbean. Likewise, following the recent completion of a project in Jamaica investigating the feasibility of introducing number portability, Intelecon was able to offer fresh and relevant insight and analysis on this topic to other Caribbean regulators and stakeholders.
To read the papers and presentations Intelecon prepared for the conference, click on the following links.
Considering Number Portability in the Caribbean, Christopher Smithers

paper and presentation

Universal Service: The Trends, Opportunities and Best Practices, Andrew Dymond

paper and presentation
March 2010 – Technical Auditor to the USF Company of Pakistan
Intelecon has been engaged as Technical Auditor to the Universal Service Fund (USF) Company of Pakistan in support of the National Broadband Strategy pilot program, the goal of which is to increase subscriber penetration of broadband in un-served and under-served areas of Pakistan. As part of the one year project initiated in January 2010, Intelecon is developing the auditing methodology and testing procedures to facilitate independent certification of broadband provider achievement of Quality of Service (QoS) and subscriber penetration targets for expanded broadband services to individuals, education institutions and community broadband centres.
Using developed methodologies, Intelecon is leading the Technical Audit of service commitments in the Faisalabad Telecommunication Region for approximately 85,000 individuals and 385 school and community broadband centres. Audit methodologies and outcomes of the project will provide the framework for auditing the USF Broadband program for the entire country and act as a model for international application.
June 2009 – Policy Options to Stimulate ICT Universal Service in the Philippines
Intelecon continues its work in the Philippines with a new World Bank project to identify ways of stimulating access to telecommunications, and in particular to broadband in rural areas. This project involves a supply analysis, a market demand assessment, and a study of the policy and regulatory options open to the Philippine Government that they can implement to improve access.
The expected benefits to be derived from this work include: improvements to the communications infrastructure, support for public service delivery programs, facilitation of electronic government services, and support of ICT application services. For the average Filipino, this might equate to fresh access to mobile and broadband services bringing educational, health, financial, commercial, personal, and other benefits. Given the current disparity between urban and rural broadband usage, our work here also pushes for greater parity of opportunity between regions.
This project is a good example of the synchronous effect that is occurring between more traditional universal access and service projects, and broadband-specific access projects. Intelecon is a firm supporter of the multitude of advantages brought about by modern ICTs to business, government, and the individual, but also of the need for appropriate enabling policies and regulations. This is why we are helping open telecommunications opportunities in the Philippines.
December 2008 – Training Workshop on Universal Access & Service and Rural Broadband
In Kuala Lumpur, from 2-5 December 2008, Intelecon presented the ITU ASP CoE Training Workshop on Universal Access & Service and Rural Broadband. Organized by the International Telecommunication Union (ITU), with support from infoDev, and jointly hosted with the ITU ASP Centre of Excellence (CoE) Network Universiti Utara Malaysia (UUM) Node in Malaysia, the workshop was based upon the Universal Access and Service Module of the online ICT Regulation Toolkit.
The workshop, conducted by Intelecon's Andrew Dymond, Sonja Oestmann, Christopher Smithers, Kyle Whiting and Stephen Esselaar, was separated into two major parts: 1) The findings of the Universal Access & Service Module of the ITU-infoDev ICT Regulation Toolkit; and 2) The sharing of different perspectives on regulation and service provision from those working in policy-making. A guided field visit to a rural broadband implementation centre was also included in the program, and workshop participants included representatives from Malaysia, Pakistan, Mongolia, Bangladesh, Saudi Arabia and Sri Lanka.
Some of the workshop's sessions included the following:
Universal Access & Service (UAS), including Concepts & Definitions; Latest Trends; Main Approaches, and the UAS Policy Framework;

Rural Broadband, including a group session on Broadband issues; and a discussion on which UAS model is suitable for broadband;

UAS Policy Implementation, including Financing Options; Program Development and Competition Strategy; and

Rural Broadband, including Policy, Financing & Implementation, and four country case studies.
Presentation materials from the Conference can be found here.
September 2008 - The Universal Access and Service Module of the ICT Regulation Toolkit
Intelecon, in cooperation with infoDev and the International Telecommunication Union (ITU), has authored the Universal Access and Service Module of the ICT Regulation Toolkit. This benchmark work provides information critical to understanding the concepts of universal access and universal service, the progress being made towards these concepts internationally, the rationale behind the policy, international trends and developments, and integration of universal access for ICTs with other national policies and programs. The fourth module in the Toolkit, it is available online at www.ictregulationtoolkit.org.
The ICT Regulation Toolkit is a live resource for policy-makers, regulators, the telecom industry, and consumers. It provides a global overview of how telecommunications policy is best implemented, including practical material and highlighting experience and results. The Toolkit's most prevalent themes are the impact of changing technology, the role of competition, and the regulatory implications of the transition from traditional telephony to next generation networks (NGNs); it is the authoritative publication on universal access and service to date. Through its participation in the Toolkit's composition, Intelecon has continued to take a lead role in responding to the need for practical, relevant guidance and assistance in this ever-changing environment.
February 2008 - Mongolia Universal Access Tenders.
Intelecon is currently assisting the Mongolian Universal Service Obligation Fund to conclude three tenders comprising the main 2008 roll-out of its universal access program supported under the World Bank's Infrastructure & Communications Infrastructure Project (ICIDP). The program comprises three projects, namely 1) mobile base stations and voice telephony services in 90 soum (district) centres; 2) Broadband Internet POPs, with public access centres and school Internet connections, in 30 Soum Centres; and 3) Semi-fixed satellite-based public access telephones in the very remote nomadic herder communities of 76 soums. Tender closing for the mobile base stations was on 13th February 2008, and the two other projects will follow on early in the Spring.
A paper describing the successful pilot projects which initiated the program and were implemented last year has just been published by the Global Partnership on Output based Aid (GPOBA) and is available on the GPOBA website at http://www.gpoba.org/news/news.asp?id=85
October 2007 - Intelecon supporting m-banking in Pakistan
Intelecon and Fincon Services, Canada are technical advisors to the Government of Pakistan on an Asian Development Bank (ADB) project to support the the improvement of m-banking in Pakistan. This is part of a TA being implemented by FINCON for improving access to financial services for the poor. Intelecon and FINCON are investigating appropriate m-banking applications, regulatory frameworks for mobile technologies, and partnerships for financial service delivery and business opportunities. Specific focus is on analyses of systems and options for promising technology applications and innovations that include mobile money transfer, Point of Sale (POS) terminals and VSAT applications.
May 2007 - Intelecon developing Module 4 of ICT Regulation Toolkit
Intelecon has been retained to develop Module 4 for the online ICT Regulation Toolkit—a web-based tool being produced by infoDev in cooperation with the ITU.
The goal of the Toolkit is to assist ICT policy makers and regulators, primarily in developing countries, and the focus of Module 4 is Universal Access (UA), a central area of Intelecon's expertise. Specifically, Module 4 will provide guidance in the design, assessment, and implementation of universal service, access or coverage initiatives. Aside from defining and outlining the key elements of UA, Intelecon will, among other things, highlight the key role that regulatory reform plays in promoting UA and describe the impact made upon UA by such factors as licensing, interconnection, tariff regulation and spectrum management practices.
Gallatin Communications has reported on this project in their ICT Standardization report: article20070513
November 2006 - Intelecon providing support for Mongolia UA Program
Intelecon has been retained by the World Bank, through competitive tender, to provide the technical, economic and legal support for rolling out Mongolia's Universal Access (UA) program. Intelecon previously carried out a thorough sector review and helped to develop the country's UA Policy, investment strategy and the regulatory design of the Universal Service Obligation Fund (USOF). The UA program involves a two-pronged communications approach: a nation-wide public voice telephony network to provide communications access for the nomadic herder communities who inhabit areas which are largely remote from the existing telecommunications networks; and a prioritised program of integrated broadband and private voice access networks in district ("soum") centres. The latter includes public access to the Internet as well as Internet access for schools in all soum centres served. Intelecon also provided management services to implement three pilot projects designed to prove the viability of the UA program. The program support consultancy now requires Intelecon to assist with finalisation of the UA targets, the development of the UA projects, the subsidy tender program and monitoring the implementation of the program.
October 2006 - Intelecon completes GSMA Universal Access study
Intelecon Research & Consultancy Ltd. has completed a benchmarking study commissioned by the GSM Association on the contributions of GSM operators around the world to Universal Access (UA) and Universal Service (US). The objective was to place the current GSM coverage levels, and the services provided, within the context of UA and US policy targets. The analysis included a sophisticated GIS based model in which Intelecon superimposed GSM coverage data published by the operators onto highly accurate population distribution data. The study benchmarked the entire world for population and geographic mobile coverage, as well as subscriber penetration. A sample of 92 emerging market and developing countries from all regions was then used for further analysis, as well as twelve detailed country case profiles.
The study demonstrated that GSM operators currently cover more than 80% of the world's population and that this will reach 90% commercially by the end of the decade. Intelecon created a set of graphics illustrating the achievements country by country and region by region.
Intelecon also investigated and demonstrated the extent to which the mobile operators, GSM in particular, are making commercially available private access affordable to virtually whole populations. The report found that they are reaching close to the universal service targets that have been established in many developing countries, including the options for data transmission in many urban markets. Intelecon also documented and addressed the multiple challenges both operators and regulators face in reaching the most rural areas. Business models and commercial and regulatory barrier-removal measures for achieving further progress were investigated and presented. The issues and available technical options for Internet service provision and public access were also investigated and summarised.
Finally, Intelecon thoroughly investigated the experience with universal access policy and universal service funding mechanisms. Based on the research, we summarised the unacceptably low level of success in re-distributing UA levies back to the sector to subsidise targeted UA projects and programs. We also studied and presented the lessons learned from the best and worst case examples. While considering the potential of mobile operators to make a significant contribution to the achievement of universal access, the report emphasised the role of UA policy and the various strategic approaches and measures which should be considered in the future by Governments, regulators and operators.
The full consulting report, together with an executive summary produced by the GSMA, were presented at the GSMA World Congress Asia 2006 in Singapore in October 2006. Both documents are available for download at http://www.gsmworld.com/universalaccess/index.shtml.
The GSMA is a global trade association representing more than 690 GSM mobile phone operators across 214 territories and countries of the world. In addition, more than 180 manufacturers and suppliers support the Association's initiatives as associate members
October 2006 - Intelecon partners in E3 Project to develop eGovernment in the Philippines
Intelecon is a joint partner with BearingPoint Canada in the five-year Electronic Governance for Efficiency and Effectiveness (E3) Project in the Philippines. Funded by the Canadian International Development Agency (CIDA), the goal of the E3 is to increase the awareness of the national government about the value and use of Information and Communications Technologies (ICTs) in the social services sector. Intelecon's Sonja Oestmann, the project's ICT Infrastructure and Market Specialist, and Scott McConnell, the Rural ICT Development Specialist, completed a two-week inception mission to the Philippines in October as part of the initial four month Project Inception Phase.
September 2006 - Intelecon retained for regulatory development in Mongolia
Intelecon has been retained by the European Bank for Reconstruction and Development (EBRD) and the Government of Mongolia to provide wide-ranging policy and regulatory support on the implementation of the country's new telecommunications sector policy and privatisation strategy. The project includes a major training program for the national regulator, the Communications Regulatory Commission (CRC), which has already been completed; the drafting of new regulations and regulatory decision-making procedures and tools; the drawing up of the country's detailed regulatory policy and implementation strategy; the provision of support tariff and interconnection regulation; and the drafting of all relevant legal revisions and regulatory instruments. The project also includes a complete review of the CRC's internal management, structure, human resources, revenue sources and budget, and the preparation of recommendations for change and development in the context of the new demands on CRC to oversee Mongolia's new sector policy.
Intelecon has assembled and is leading a team which includes, in addition to its own internal resources, a number of associates who are senior, internationally recognised experts. The project duration is approximately twelve months. The project will involve many client and public workshops, building consensus at all stages of the project.
September 2006 - Intelecon advises on UA Policy in Malawi
Intelecon was awarded a World Bank competitive tender to provide expertise to the Government of Malawi for the project, Creating the Enabling Policy, Legal, Regulatory and Institutional Environment for Improved Access to ICT services in under-served Areas in Malawi. Intelecon, with its local associate, New Horizon Consultancy (NHC) of Blantyre, is providing consultancy services to develop a Universal Access Policy and prepare the required legal and regulatory documents to support a pilot project that is to be funded in part by a proposed Rural Telecommunications Development Fund. While Malawi has a mobile population coverage of 85-90%, penetration is at only 4.1%.
August 2006 - Intelecon assesses the Rural Telephone Project of Nigeria
Intelecon was contracted by the International Finance Corporation (IFC) to assess the overall program plans of a micro-credit based telecommunications network in Nigeria, to determine its suitability for investment. The Rural Telephone Project (RTP) is proposed as a Corporate Social Responsibility initiative by Africa's largest GSM operator, MTN Nigeria. Intelecon participated in a project scoping mission to Nigeria and provided the IFC with strategic operational recommendations for the RTP and a detailed financial model to help determine its viability and sustainability.
Intelecon supports UA pilot projects in Mongolia
Intelecon is working with the Government of Mongolia (GOM) to support the implementation of two Universal Access pilot projects in Arkhangai and Bayankhongor aimags (provinces). Intelecon's responsibilities in this initiative include conducting a Cost/Benefit Analysis of the pilot programs; and supporting the Subsidy bidding process, including finalization of tender dossiers, evaluating bids, and developing and implementing the monitoring and certification process. This World Bank funded project is an extension of a previous project completed for the GOM by Intelecon in 2004, which involved the creation of a UA strategy and institution to manage that country's Universal Service Funds program.

Intelecon advises Nigeria on Universal Access routes.
Intelecon has completed work for Nigeria's telecommunications regulator, the Nigerian Communications Commission (NCC), creating a short list of potential transmission route candidates to receive financial support under the pilot program, Universal Service Provision Fund (USPF). Utilizing a financial model to investigate the feasibility of 24 potential projects, Intelecon determined how to select the best candidates for piloting under the USPF program. This work will lead to the tendering of two pilot projects to operators in 2006. Intelecon's experience with Nigeria's regulatory environment dates back to 2003. Nigeria is Africa's most dynamic telecommunications market, with approximately 19.8 million phone users and teledensity levels that rank among the highest in sub-Saharan Africa.

Intelecon designs network strategy in Iran.
Intelecon is assisting Monenco Iran Consulting Engineers with the development of a comprehensive telecommunications network plan for the Khouzestan Regional Electric Company (KZREC) in Iran. The network will handle both control and communications for the electrical distribution system, as well as the potential provision of telecommunications carrier and corporate network backhaul services.
Intelecon completes rural demand study in Mozambique.


Intelecon completed a detailed telecommunications and ICT demand study in 27 rural and semi-urban localities across six districts in Zambézia province, Mozambique. The month-long study was part of Intelecon's work with its local partner, Austral Consultoria e Projectos, Lda (Austral), to provide consulting services to the Government of Mozambique (GoM) in the development of a strategy for universal access (UA) to telecommunications in the rural areas of the country. Researchers visited the districts of Gurue, Mocuba, Alto Molocue, Namacurra, Pebane and Namarroi. In addition to the demand study, the World Bank funded project includes drafting a Universal Access policy and strategy; and managing the launch a pilot project that will introduce a competitive tendering process for operators to receive a subsidy for the provision of UA services.
The study was designed and managed by Intelecon, and conducted in partnership with Austral. Zambézia province was selected by the GOM as the pilot project region based on the recommendations of Intelecon, which had created a dynamic financial model to identify those areas in the country that would require a one-time subsidy to ensure the delivery of telecommunications infrastructure and services. Following the completion of the study, the data outputs would provide even more detailed information to further enhance the accuracy of the financial model.
Three categories of localities were targeted during the study:
Rural Administrative Posts and villages without access to any telephone services;
District Centres which did not have any private telephone services available; and
Administrative posts and villages with access to public and private telephony, and, in some cases, Internet services.
Intelecon led a comprehensive training program with nine Austral researchers in Zambézia's provincial capital, Quelimane, located 1,500 km north of Maputo. Following a thorough review of the questionnaires and other survey tools by the research team, pre-testing was conducted in two localities outside of Quelimane. Following this, Intelecon reviewed the outputs of the pre-tests, held discussions with the researchers made the necessary changes that were required prior to departing for the pilot zone area. The study began in the District Centre of Pebane, located approximately 300 km to the north of Quelimane.
A total of 640 household and business/institution questionnaires were conducted during the course of the study, with representation from areas without any phone services (15 localities); those without private phones (6 localities); and those with existing public and private telephone services (6 localities). Respondents represented a cross section of individuals from household and business/institutions in each community.
Among the many interesting results from the surveys in the pilot zone were the following:
38.5% of the respondents in areas with existing public and private telecommunications access reported that they had used a telephone before; 7% of the same sample reported owning their own mobile phone;
36% of household respondents in areas with access to phone services reported having previously used a computer. Of that group, 17% reported having used the Internet, and 25% reported having previously used email;
53% of business/institution respondents in areas with access to phone services reported having previously used a computer. 46% of that group reported having used the Internet, while 50% had reportedly used email; and
Just 2.6% of business respondents in rural areas without access to telecommunication services reported owning their own mobile phone that they would use in areas with cellular coverage; less than 1% of rural household respondents reported the same.
Overall, those respondents who reported using the telephone reported that they currently spend approximately 11% of their income on phone calls. When respondents living in areas without telecom services were asked how much they would be willing to spend each month in the future if such services were installed in their communities, the average response amounted to approximately 10% of their income. International research conducted by Intelecon and others has found that the range of percentage of income reportedly spent by phone users can range anywhere from 2% to 15% and more.

July 2005 – Results from the largest demand survey in Nigeria




A household interview in a village A small business interview in an urban centre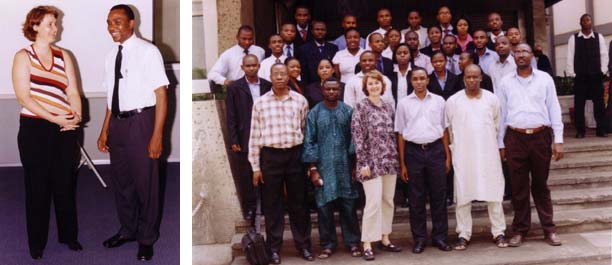 Partners for the nation-wide Group photo with NCC senior staff, Intelecon's
demand study: Sonja Oestmann Sonja Oestmann, Fola Odufuwa, the MD of e-Shekels
(Intelecon) & Fola Odufuwa & the entire Nigerian demand research team
(e-Shekels)

In the country which most symbolizes Africa's growing telecommunications market, Intelecon has completed the largest survey of telecommunications demand in unserved urban and rural locations ever undertaken in Africa. The results will be used by Intelecon, in consultation with the Nigerian Communications Commission (NCC), to help refine the design of the country's universal access program and to identify further pilot investment projects for the Universal Service Provision Fund. The study is part of a World Bank sponsored technical assistance project. The study covers 24 of the country's 36 states, in every region of the country. The survey team has conducted more than 5,000 interviews, both household and business/institutions, in 24 urban and 48 semi-urban locations and 72 rural villages. Intelecon designed the survey to identify demand, affordability and user preferences, and it was executed with the assistance of its local associate, the country's leading market research firm, eShekels Limited.
Brief report of result highlights.
July 2005 – Intelecon completes Project Review of Village Phone concept for the IFC
Intelecon has completed a Project Review of the MTN Uganda villagePhone program for the Small and Medium Enterprise Department (SME) of the International Finance Corporation (IFC). The six week project involved a review of the progress of the VP program in Uganda since its inception in 2003, and the identification of recommendations and strategies which the IFC could use to replicate the VP brand across Africa and other developing regions of the world. The Project Review was conducted as an internal process for the IFC, which was a financial contributor to the Grameen Foundation USA (GFUSA)'s VP replication program.
The VP model is based upon the now famous program in Bangladesh that linked the Grameen Bank's micro-credit approaches to development with GrameenPhone, a sister company of the Bank, that had an interest in expanding its rural network throughout the country. The VP program in Bangladesh began in 1997 and has grown to over 125,000 village phone operators (VPOs), 99% of whom are women. Each VPO is drawn from the Grameen Bank membership, and agrees to accept a small loan which is used to buy VP equipment kits, which consist of a GSM handset, a car battery to act as a power source, a yagi antenna to enable the phone to capture the mobile signals from the nearest transmission tower, and advertising signage. With these kits, the women become VPOs in their communities and earn revenue from their clientele making phone calls. This revenue is used to pay down their loans and support their families. The VP model established in Bangladesh has been attempted In Uganda and Nigeria in recent years.
Intelecon's recommendations for the IFC focused on the need to champion VP proponents across Africa and elsewhere in order to facilitate external support and funding for these initiatives. Intelecon also concluded that the experience in Uganda has brought to light many differences between the original Bangladesh model and models more suited for Africa. Intelecon has proposed a number of alternative models for consideration apart from the models already in place in Bangladesh and Uganda. These alternative models would provide a greater choice of operational styles, VPO selection criteria and objectives to match the diverse and highly competitive telecom environments found across the continent and in other parts of the developing world.
June 2005 – Intelecon shares perspectives of Village Phone experiences at World Bank seminar
Andy Dymond and Scott McConnell recently participated in a World Bank seminar held in Washington, D.C., on the topic of the Grameen Village Phone model in Africa. The June 22 event was sponsored by a number of organizations within the World Bank, including the IFC Capacity Building Facility, infoDev, GICT and CGAP. Intelecon's presentation followed a VP program overview delivered by Mr. David Keogh, the Technical Manager for Grameen Technology Center, which oversees the operations of the VP operations in Uganda. Intelecon presented its perspectives on the Village Phone rural telephony model currently being deployed in Uganda, and the opportunities and challenges for replicating the model in other parts of the world.
In his presentation, Andy Dymond, the Managing Director of Intelecon, identified a number of potential issues and challenges to be considered under the guise of a wider replication of the program across several African countries. Among the issues raised were:
Recognising the uniqueness of each potential VP environment. The importance of recreating and adapting the VP model to fit the radically different telecom and socio-economic environments that exist from country to country was empasized as a key first step towards the growth of the VP market;
Recognising that the scenario of telecom monopoly environments in Bangladesh will not be found in Africa. Uganda's competitive marketplace has posed significant challenges for the sustainability and viability of the VP business model. If VP is to be a brand that can be launched across Africa, its future proponents countries must be prepared to adapt and modify their model to other similarly dynamic marketplaces throughout Africa and other developing nations;
Need for substantial funding support. In its current form, the VP model requires significant investor funds to replicate the program on a country-by-country basis. A challenge for the model will be to identify the donors and investors willing to support the program in the future, both in terms of funding for country assessments and pre-deployment activities, and return on investment funding for the operational side of the VP program; and
Time sensitivity of future replication program. Intelecon emphasized that the opportunities for VP replication across the African continent are extremely time sensitive owing to a number of factors, including:
private sector operators will not wait for the donor community to organize itself for rural telecom investments; and
the telecom environments in African countries are developing rapidly and becoming more competitive, thereby reducing the likelihood that operators would be willing control their rural customer growth to one particular clientele only (i.e. rural women, or rural MFI members, etc.).
Intelecon's participation in the World Bank seminar coincided with a separate presentation made to the IFC of their preliminary findings of a Project Review of the Uganda VP program. The study assessed current practices in the Uganda business model and identified potential replication models that could be deployed in the future in Africa and other developing countries.
May 2005 – Burkina Faso rural demand study

Intelecon is finalizing the results of a rural demand study that was concluded in mid-April in 12 localities in the South-west region of Burkina Faso. A team of five researchers worked in the region for approximately 2 weeks conducting interviews using the Intelecon designed survey tools and methodology. The team was led by local ICT NGO, Yam Pukri, which is charged with executing the field work for Intelecon. Scott McConnell joined the team in the field for the first week to supervise their overall progress.
A total of 319 household and small business interviews were conducted in as many as four different local languages to assess citizens' demands for telecommunication services. Eight localities were based in areas that were outside of telecommunication coverage, and four were in areas where telephone access was available. The results of the study will be used to refine the strategy for the nationwide competitive tender for issuing Universal Access (UA) authorizations in rural areas of the country. The South-west region will not only be the first region to test the new UA strategy, but it is also the first project to be funded by the Government's Universal Service Fund. Intelecon is partnered with legal firm McCarthy Tétrault on this World Bank funded project.
F